Castle Rock, CO
Connor Kelly has accomplished a great deal in the past 4 years as a Sabercat. His latest accomplishment might be the biggest yet. Kelly, the only football player in school history to receive the Sabercat Award two times, has received an appointment to the United States Merchant Marine Academy (USMMA).
The United States Merchant Marine Academy, located at Kings Point, New York (on the north shore of Long Island), is one of the five (5) Federal Academies.

Nominated by an elected United States representative of congress, Kelly is one of approximately 275 appointees selected to attend the academy from around the nation and the world, out of over 3,000 applicants.

Completion of the intensive four year regimental and academic curriculum, which includes three trimesters at sea on U.S. Flag Merchant vessels and U.S. Navy ships, as wel
l as an internship, leads to a Bachelor of Science Degree, a U.S. Merchant Marine Officer's License as either a Deck Officer or Engineering Officer, and an Ensign's commission in the U.S. Navy Reserve. An Appointment to the Academy is the equivalent of a scholarship worth approximately $250,000 over the 4-year period accordioning the USMMA.
US News and World Report ranked the USMMA the #2 Public school in the nation and CNBC reports that the academy ranks #6 in the nation for the highest paid alumni, just behind Harvard, MIT and Stanford.
Kelly was a standout scholar-athlete while at Castle View. The Middle Linebacker led the team in tackles in 2018, despite missing 4 games due to a mid-season injury. Kelly's performance and leadership as a co-captain helped lead the CV Football program to a historic turn-around.
Praise for Connor Kelly is not hard to come by. "He is hard working and tough. A leader by example", stated Head Coach Todd Casbier. Teammate and best friend Cole Oster acknowledged, "In my opinion, Connor Kelly is the best Middle Linebacker in the state of Colorado and I am proud that I was able to
play next to him for the past 4 years." The co-captain continued, "Connor led our team to great things. He is the type of leader that will thrive at the academy and I am so proud that he will be serving our country and continuing his football career".
Connor's accomplishments did not stop on the field. In fact, he is a decorated scholar at a school known for producing excellence in academics. Connor Kelly will finish his secondary schooling career with a 4.1 GPA and have served as president of the National Honor Society.
Kelly took home the Sabercat award, which is an honor bestowed upon a single athlete from each sport. This was his second consecutive award, joining a very small group of CV Student athletes who have won it more than one time. Amongst the small company of athletes who have won the award more than once is Connor's older brother Ryan, who attends and plays Baseball for Point Loma in San Diego, CA.
"He had a successful career at Castle View. I know an important thing for him was winning,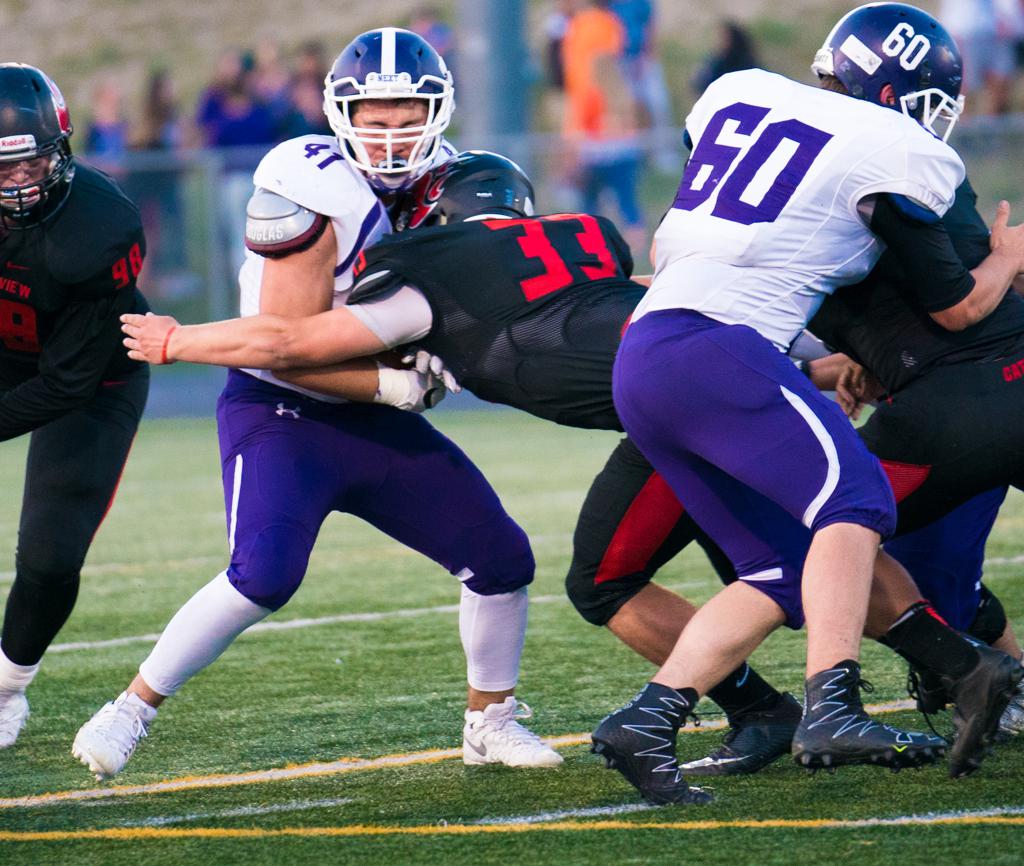 and to watch him and his teammates change the story of that program to a winning culture was incredible to follow. He's a special kid on an off the field, so him getting the Sabercat award twice doesn't surprise me and is well deserved."
While paying tribute to his younger sibling, the proud old brother was still able to work in a friendly chirp, "There is no doubt in my mind the USMMA is getting a dedicated, respectful student athlete. He's the type of person you want serving the country, although he needs some extra training to be able to take down his older brother. All jokes aside, I am very proud to call Connor my brother and I can't wait to watch him grow as a person and football player at the Marine Academy."
As Connor Kelly looks back on his CV career, it is obvious that there was a certain sense of gratification and pride. He was quick to point out some of the high points, in particular during his senior year when he helped lead the Sabercats to the 2nd round of the Class 5A playoffs, marking the best season in the schools 5A history.
"Senior year was amazing. I think of the Homecoming game vs Legend. Our class had never won a Homecoming game and Legend had whooped up on us the previous couple years. It felt so good to command that game. The locker room afterwards was awesome! No one even wanted to get out of their gear – we just wanted that moment to go on forever."
The Sabercats stormed onto the state scene this season after a bitterly disappointing 2017 campaign. Kelly was part of a search and interview committee that ultimately landed Todd Casebier as the new Head Coach. Casebier picked up his 14th career Coach of the Year honors (including the Mile High Sports Magazine High School Coach of the Year- All Sports) in 2018 after helping the Sabercats engineer the state's most dramatic turnaround.
"Meeting Connor during the interview process definitely made my decision to come to Castle View a lot easier. Connor Kelly is an example of what a student athlete should be. I was fortunate to get to coach him", stated Casebier.
Kelly also admitted that it was not easy and at times, but there were a ton of lessons learned. He pointed to the tough times and credited those times as opportunities to improve and grow.
"Being on a team is one of the most special things you can do. The friendships you experience and the bonds you establish are extraordinary. Nothing quite compares to
spending time with each other. Sometimes you have to embrace the tough times and hard things. If you do this, you can the realize the reward. Our reward was even sweeter because of the two challenging years we had prior to 2018." The senior went on to talk about how he will use the lessons of "hills and valleys" as he prepares to embark upon one of the most challenging endeavors of his life at the academy.
The USMMA pushes the best athletes and scholars to the limit and is extraordinarily demanding. Even gifted students are often challenged first year, but Kelly is ready for the challenge.
Kelly learned of the Merchant Marnie Academy through a family friend who put him in touch with a graduate who lives and works in New York City as Harbor Boat Captain, a position that is responsible for bringing ships as large as the Queen Anne into the famous New York Harbor. The graduate is also a commander in the US Naval Reserve.
During this initial conversation, Kelly became interested in the opportunities to see the world and the strong likelihood of top career prospects coming out of the academy.
It was at this time that Coach Mike Toop began contacting Connor. The 14th year Head Football Coach at the USMMA loved Kelly's toughness and nose for the ball. The two struck up an immediate rapport and the football opportunity helped Kelly seal the decision.
"I really felt like they wanted me there. I was welcomed on campus and meeting the
coaches in person was key. Coach Toop is also the LB coach and reminds me a lot of Coach Casebier by the great interaction he has with players. The players love him and he has great presence in the room. I was impressed with coach being in the weight room at 5:00 AM."
During Connor's visit to Kings Point, he was up with other cadets at 5:00 AM to participate in a workout. "Yeah, I was a little groggy and shocked because we were up until midnight the night before. But I am impressed with how much they fit so much into their day. When you wake up at 5:00 AM, you get so much more done. This appealed to me more than I thought it would".
Connor's mom Tracey could not be more proud. "Connor began his college search knowing he wanted to be challenged. I believe this led to his decision to attend the Academy. He will be pushed intellectually, physically and mentally and I know that Connor will thrive in that environment. I am so proud of his
decision to attend the USMMA and to serve our country."

Tracey is also excited for her son. "I am excited for the amazing opportunities that lie ahead for Connor. He will receive a great education, get to travel the world, play football while serving our country. I can't wait to see where this journey takes him."
He offered this advice for existing and future Cats. " Don't take it for it granted. Everyone will tell you that it goes fast, but it goes faster than you can ever imagine. Savor it by working harder than you did at the last workout or practice. It is over in a flash. Finally, careful who you listen to. Make sure you listen to the ones who believe in you and make sure you surround yourself with those people."
Connor Kelly's presence on the field and in the hallways will definitely be missed, but he will have a lasting legacy as one of the leaders who helped make the Sabercats a winning program at the highest level.