Castle Rock, CO
A total of 10 Castle View players were announced to have made the all-conference team this season with another 7 honorable mentions. Additionally, Todd Casebier was named Coach of the Year in the South Metro League.
On the Defensive side of the ball, Blake Haggerty, Micah Nanninga and Hershel Craig, III were all named to South Metro All league team.
Haggerty: 1st Team All Conference on both Offense and Defense. The Junior Defensive Back, had 35 tackles, 2 interceptions, a caused fumble and 5 passes defended in the 7 games he played. Watch Blake Haggerty Highlights Here.
Micah Nanninga: 1st Team All Conference. The 6-7, 220 lb Defensive End had 37 tackles, 3 sacks, 17 QB hurries and 2 pass deflections in the 6 games he played. Nanninga was a force. Watch Micah Nanninga Highlights Here.
Hershel Craig III. 2nd Team All Conference. The 6-4, 210 lb Junior Defensive End had 45 tackles, 2.5 sacks, a forced fumble and an interception and will be a critical contributor to the defense in 2021. Watch Hershel Craig III Highlights Here.
The 5th ranked offense in the state was recognized for their achievements by having 6 players named to its All-League team. Johnny Colombi, Blake Haggerty, Ren Miller, Zane Wodark, Marc Wessbecker, Ethan Plummer and Jens Anderson all joined the ranks of All-League.
Johnny Colombi: 1st Team, All Conference. The 6-3, 190 Lb Senior, led the league in passing with nearly 1100 yards and 14 touchdowns in just 7 games. Colombi was dangerous with his arm and his feet. The senior quarterback was an undisputed leader of this team. Watch Johnny Colombi Highlights Here.
Blake Haggerty: 1st Team All-Conference. Blake was impressive on the offensive side of the ball as well. Snatching 6 Touchdown catches, 560 yds in receiving with nearly 25 yds per catch in just 7 games. Blake seemed to do it all. He also punted, received punts and was a deep kick returner. Watch Blake Haggerty Highlights Here.
Zane Wodark: 1st
Team All-Conference. The 6,0, 185 Lb senior was again, one of the most dangerous Running Backs in the state. In just 4 games, Wodark racked up and impressive 556 yards and 6 TD's on 77 carries. That is an average of 7.2 yards per carry and 140 yds per game. Watch Zane Wodark Highlights Here.
Ren Miller: 1st Team All Conference. The amazing performance up front was not possible without the effort on the front line. In a league that features multiple D1 Offensive Line prospects, Ren Miller was able to get the nod for his performance in 2020.
Ethan Plummer: 2nd Team All C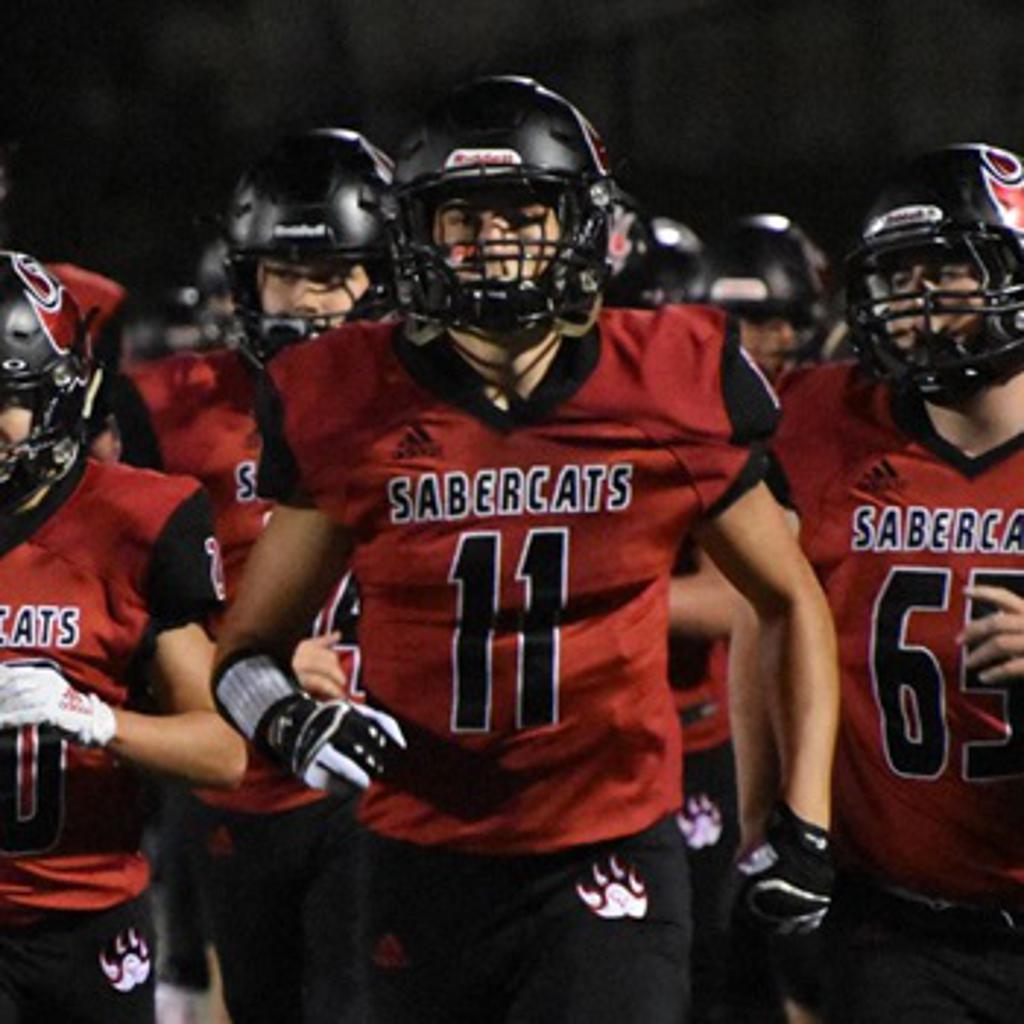 onference. The 6'3, 200 lb Senior Tight End had a strong season. Making big catches in big games, Plummer averaged 17 yards per catch and was a mighty contributor to rushing success Castle View had in 2020 by consistently making critical blocks. Watch Ethan Plummer Highlights Here.
Jens Anderson: 2nd Team, All Conference. The 6'1, 175 Lb senior had a great year, snagging 4 Touchdowns and 25 catches, making his 2 older brothers who were Sabercats proud. Anderson was also a key component in downfield blocking which contributed to CV's rushing success. Watch Jens Anderson Highlights Here.
Marc Wesbecker recognized as a 1st Team, All-League, 'All Purpose" athlete. This is probably because this 5'11, 175 lb junior did it all. Logging 55 tackles, an interception and a fumble recovery on Defense, Wessbecker was called upon to contribute on the offensive side of the ball as well. Marc amassed 620 total yards on the ground and through the air, scoring 5 Touchdowns on the year. Watch Marc Wessbecker Highlights Here.
Head Coach Todd Casebier was named South Metro Coach of the Year along with Donnie Yantis at Valor. Yantis, the first year Valor coach was previously on staff at Arizona State University before being recruited to coach Valor which remains in the South Metro league .
This Coach of the Year award marks the 14th time he has been chosen for this award in his 23 year career, including 8 of the last 9 years. In 2018, "Mile High Sports Magazine' named Casebier, High School Coach of the Year (for all sports in Colorado). Casebier is closing in on 200 career wins and presently sits at 194.
Honorable Mentions to the All-League team were; Bryce Lutz (Sr), Beto Ledezma (Jr), Ethan Anderson (Sr), Zach Breed (Sr), Noah Jamero (12), Quin Samuelson (12), Braedyn Vildibill (11).